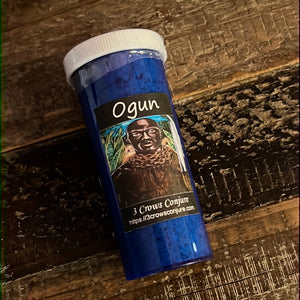 Ogun Powder
Regular price
$9.95
$0.00
Unit price
per
OgunåÊPowder is designed to helpåÊyou to better connect with Ogun. This powder is for protection.åÊ
Ogun is a powerful, fierce warrior who defends his people and fights against injustice. Ogun has the intelligence and creativity to invent tools, weapons, and technology.
Ogun's days of the week are Tuesday and Wednesday, and the 4th day of every month.åÊ His feast day is June 29, coinciding with that of Saint Peter.åÊ His numbers are combinations of 3 and 7.åÊ His eleke consists of alternating green and black beads.åÊ Traditionally, Ogun lives in a three-legged metal cauldron with Ochosi, and he's placed next to Elegua.

Ogun's protection is especially important in questions related to surgery and operations of all kinds, fevers, accidents where there's profuse bleeding, and any kind of wound caused by metal.åÊ He likes roasted sweet potatoes, plantains, kola nuts, white beans, smoked fish, toasted corn, palm oil, cane alcohol, and cigars. Offerings to Ogun are often left at the railroad tracks, which are one of his symbols.åÊ He'såÊsyncretizedåÊwith Saint Peter because Saint Peter owns the keys to the kingdom.
•ÈÀ***Sold as a curio.åÊ Results not guaranteed.***•ÈÀ•ÈÀ
---
Share this Product
---