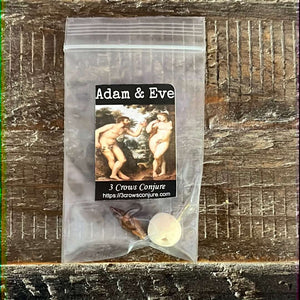 Adam & Eve Root
Regular price
$5.99
$0.00
Unit price
per
Adam & Eve Root Magical Uses:  Adam & Eve Root are the roots of the curtain orchid Native to North America. These plants were used for repairing broken objects, so they strong association with mending broken relationships. Today they are no longer orchid roots but are a combined bag of lotus and balsam buds. These two are very symbolic of the male and female anatomy. They are also good for drawing love or a good solid relationship with you. 
Adam & Eve Root is used by both men and women to draw a potential spouse by reciting Genesis 2:18; "And Adam gave names to all cattle, and to the fowl of the air, and to every beast of the field; but for Adam, there was not found a help meet for him," and adding "Bring me one who is destined to be the flesh of my flesh and bone of my bone."
To Keep Your Lover True:
One partner should carry the Adam root, and the other partner should carry the Eve root. The concept is that the roots will be drawn back to each other, thus keeping the lovers together. To attract new love or a marriage proposal, carry both roots together in a red mojo bag, and anoint the bag daily with Adam & Eve Oil.
You will receive one pair in a clear sealed bag.
***Sold as a curio. Results are not guaranteed.***
---
Share this Product
---