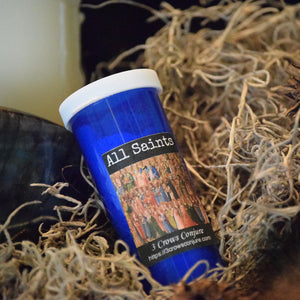 All Saints Powder
Regular price
$9.95
$0.00
Unit price
per
All Saint's Powder has organic herbs and therapeutic-grade essential oils that have been historically associated with good blessings, health, and overall well-being. This is an all-purpose blend and can any apply to ANY saint you may choose to work with. Our All Saint's blend has a mellow sweet scent with vanilla tones and a hint of lavender.
Spell Suggestions:

Use All Saint's Incense in any work where you are petitioning a saint for their assistance. Apply All Saint's Oil and All Saint's Powder to the associated candle of the saint. If you can't find a particular candle for a certain Saint, you can simply use a white candle.
Below you will find a few saints examples and associated colors:

St Michael: Red, Purple, or Green. Protection, victory, and overcoming obstacles.
St. Lazarus: Yellow or Purple. Health, sickness, addictions, prosperity.
Our Lady of Charity: Yellow. To bring new love, marriage, or protection to the home and family.
St. Joseph: Yellow: Real Estate Issues
St. Anthony: Orange: To find new love, lost items, to bring back an old love.
St. Dymphna: Blue. For mental or emotional unease, family harmony.
St. Barbara: Red. To help clear obstacles, and protect, protects women, good luck.
St. Rita: Pink. To help with impossible causes, abused women.
***Sold as a curio. Results not guaranteed***
---
Share this Product
---