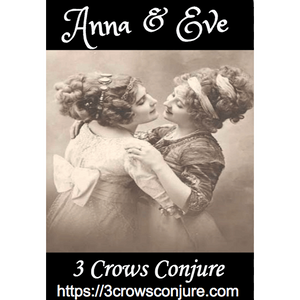 Anna & Eve Incense
Regular price
$9.95
$0.00
Unit price
per
Anna & Eve Incense is ideal for females who want to bring about female love to you and someone they currently know or are dating. Anna & Eve Incense can bring fidelity to your current relationship. Anna & Eve Incense is to promote enduring love between spouses or lovers. Typically this blend is not used to bring a NEW or unknown female into your life but is perfect to bring love about from a female you know, are dating, or are in a relationship with. We use organic herbs and high-quality resins associated with love drawing and to enhance the female nature to make the perfect concoction to entice the female to love you.
*We do NOT use the endangered Iris root. We use the NEW Adam & Eve roots.
Anna & Eve USES:
Bring fidelity to a current relationship.
Bring love to female relationships.
Anna & Eve SPELL IDEAS:
You can incorporate Anna & Eve Powder on the candle as well or even dust this powder in your bedroom. You can dress a pink or red female candle with •Anna & Eve Oil• and place it on the photo or your desired one. Burn•Anna & Eve Incense• while doing your spell or to enhance the bond with that special someone.
Do not leave incense burning unsupervised. Please use a heat-resistant container or surface for safety.
***Sold as a curio. Results are not guaranteed.***
---
Share this Product
---