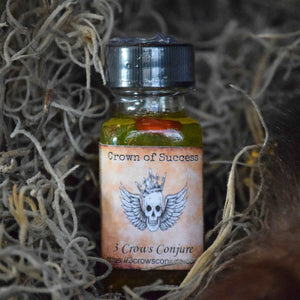 Crown Of Success Oil
Regular price
$14.95
$0.00
Unit price
per
Whatever you are working with that needs that added boost, whether it's business or money related, seeking employment, dealing with the law/court, taking your midterms and finals, the list goes on and on, it can help. Crown of Success promotes your personal power and clears out negative influences to help create an atmosphere favorable to your success.
Crown of Success Oil Uses:
Success with any project (career and business)
Success with performing arts, studies, school work or writing
Eloquence and clear communication
Crown of Success Spell Ideas:
Use Crown of Success Oil to anoint the brow and the forehead prior to any school work or writing to successfully and eloquently communicate with others and retain the information you are learning. Carve your name into a white candle, dress it with Crown of Success Oil and powder it with Crown of Success Powder. Place it on a white saucer on top of your photo and ring it with bay laurel leaves. Burn this candle for success in your endeavors, the power to learn, and speak with great eloquence.
***Sold as a curio. Results not guaranteed.***
---
Share this Product
---