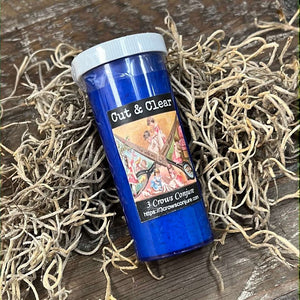 Cut & Clear Powder
Regular price
$9.95
$0.00
Unit price
per
Cut away the emotional ties from your past relationships with Cut & Clear Powder. This powder incorporates lemon and other effective herbs to sever your ties to the past, free your heart of feelings for an ex-lover, and help you move forward with your life. Cut away and clear the road to new love and a new future.
Cut & Clear Powder Uses:
Cut emotional ties to a former friend of lover
Clear attachments to past exes
Cut & Clear Spell Ideas:
Take a white candle and dress with Cut & Clear Oil after you attach to a plate circle it with 3 rings of salt (you can use 3 different kinds or just one). Circle with rosemary, mint, and lemon peel and then light the candle. åÊAnother idea is to write 2 lists of qualities left side is the qualities you don't want in a relationship and the right side is the qualities you do want. Cut the paper between the 2 lists and burn the qualities you do not want in a fire safe dish and then discard. Dress a candle of your choice with Cut & Clear Oil ( you can even inscribeåÊyour name and your ex's name) and then light it to clear the old relationship. Make sure to do an attraction work with Attraction Oil anoint a candle with this oil and then place on top of the list of qualities you do want in your new relationship.


You will receiveåÊone ounce.
•ÈÀ***Sold as a curio.åÊ Results not guaranteed.***
---
Share this Product
---