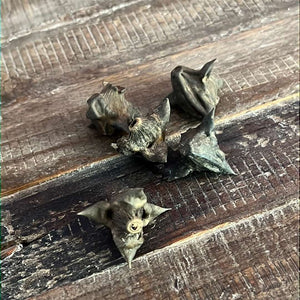 Devil Pod aka Bat Nut
Regular price
$5.00
$0.00
Unit price
per
Devil Pod Magical Uses:åÊ Devil Pods,åÊaka Bat Nuts,åÊare used to ward off evil or return spells back to the sender.åÊ They can be placed aboveåÊthe doorway, facing outward as an apotropaic guardian, much in the manner of ancient Tibetan door demons. Likewise, it makes a splendid inclusion inåÊmojoåÊbagsåÊof the types commonly known as "Jinx Breaker," "Keep Away Enemies," or "Run Devil Run."åÊ In China, the Bat Nut is regarded as a good luck charm.
gender:åÊ masculine
element:åÊ fire
planet:åÊ Mars
deities:åÊ Shiva, Isis, Tzaddi, Athena
åÊYou will receive 1 devil pod in a clear sealed bag.
***Sold as a curio only.åÊ Results not guaranteed.***
---
Share this Product
---