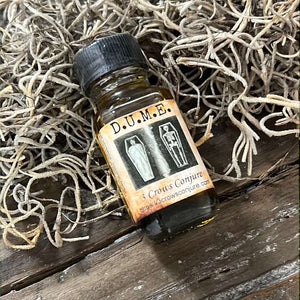 DUME Oil
Regular price
$19.95
$0.00
Unit price
per
"Death unto my enemies" - four powerful words that evoke the image of victorious conquest and triumph over one's adversaries. Now, imagine being able to harness that same energy and apply it to your enemies through a potent and effective condition oil.

Introducing DUME Oil aka Death unto my enemies oil, a unique blend of herbs, oils, and magical ingredients designed to banish and eliminate anyone in your way. 
**THIS IS A SERIOUS CURSING FORMULA DO NOT TAKE IT LIGHTLY! 

Crafted with the utmost care and attention to detail, each bottle of "Death unto my enemies" condition oil is imbued with the essence of ancient magick and spellwork, passed down through generations of witches and practitioners of the craft. Infused with a potent blend of herbs, curious, anima, and more, this condition oil is specifically designed to bring harm and misfortune to your enemies and those who wish you ill.


Whether you are dealing with a particularly persistent foe or simply seeking to protect yourself from potential harm, "Death unto my enemies" condition oil is the perfect tool to help you achieve your goals. 
Make sure to clean up afterward make sure to take it to a dumpster off your property, river, railroad crossing, crossroads, or graveyard to bury the work if needed. 
CLEANSE YOURSELF AFTER YOU COMPLETE THIS WORK!
We offer Rue and Hyssop Soap, Cleanse Me From My Sins Soap, 13 Herb Bath, Uncrossing Bath, Purification Bath, etc... We highly recommend these afterward, and at a bare minimum make sure to say Psalm 51 while cleansing yourself from this in a bath with vinegar or ammonia (2-3 caps in a full bath of water).
***Sold as a curio. Results are not guaranteed.***
---
Share this Product
---