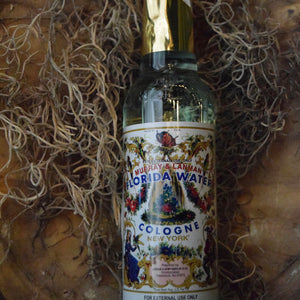 Florida Water (Murray & Lanman)
Regular price
$9.95
$0.00
Unit price
per
Florida Water has existed since the 1800's known for its refreshing citrus scent and strong cleansing properties. Its been known as the most popular perfume in the world," Named after the legendary Fountain of Youth.
The base ingredient of alcohol contains a blend of dissolved essential oils, including lemon oil, orange oil, and lavender oil.
Use it to wipe down your altar to cleanse negative energy and clear to receive messages from the spirits and ancestors. Florida Water is used to remove heavy vibrations and to encourage the expression of emotions. It can attract love or unlock obstacles in relationships especially if you use it alongside an Attraction Candle while focusing your intentions on your desired outcome. Be aware, that Florida Water is flammable and should never be placed too close to a flame.
For a new home, and blessings use Florida Water mixed with Basil and Rue herbs to anoint your windows, doors, and floors for protection, prosperity, and luck. Great for using to cleanse you before a ritual or spiritual bath to rid yourself of negative energy and encourage protection.
Dab on your head, neck, heart, and feet for protection and a feeling of balance. Wash your hands after engaging with negative people or being in a hostile environment.
Florida Water can ease aching muscles, sunburns, and bug bites.
***Sold as a curio only. Results are not guaranteed.***
---
Share this Product
---