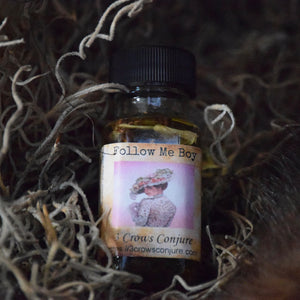 Follow Me Boy Oil
Regular price
$14.95
$0.00
Unit price
per
Follow Me Boy Oil is a powerful, controlling, love blend that will keep your man in love with you and under your thumb. Follow Me Boy Oil is a traditional hoodoo blend used in controlling love spells. We use therapeutic-grade essential oils, organic herbs, high-quality resins, and powerful intentions.
Follow Me Boy Oil Uses:
Dominate your boyfriend or husband
Keep your man faithful and under your control
Follow Me Boy Spell Ideas:
Follow Me Boy Oil can be used in spells to keep your man from wandering around or cheating on you and is traditionally used to feed Nation Sacks (a type of mojo bag carried by women to control their men and keep the upper hand in the relationship). Put a few drops in your man's shampoo, or in his laundry as a sneaky trick to keep him affected by your magic. Dress a purple candle with this oil, roll it in calamus root, queen Elizabeth root, and a few drops of your urine. Burn it down over a photo of your man to keep him subdued.
***Sold as a curio only. Results are not guaranteed.***
---
Share this Product
---