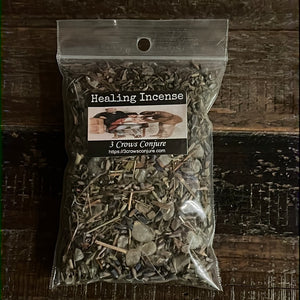 Healing Incense
Regular price
$9.95
$0.00
Unit price
per
Healing IncenseåÊis intended toåÊhelp heal on all levels;åÊ mind, body and soul. It is meant to ease the discomfort you have with lost parts of your soul, feel lost, are grieving, or just feel like you need a boost to your spiritual health.åÊ If you need help with moving forward in your life, this incense will help. The sweet scent of fresh hay and a touch of lemon make thisåÊHealing IncenseåÊherbalåÊblend feel like a comforting hug while healing vibes get to work. This is NOT intended to take the place of a physician's advice and can be used in conjunction with medication, therapy or other treatments.
HealingåÊIncense Uses:
Gently and easily deal with old issues.
Heal a broken heart.
Soul RetrievalåÊ
Spiritual healing
Healing Spell Ideas:
Dress aåÊblue candle withåÊHealing OilåÊand roll it inåÊHealingåÊPowderåÊand place over your petition or over your photo to heal. BurnåÊHealing IncenseåÊwhen you feel the need for some spiritual healing.
Healing Incense is a loose herbal incense designed to be used with a charcoal disk.åÊ Use a spoon to add incense to the hot charcoal.åÊ Make sure to use a heat proof container.
Do not leave incense burning unsupervised.åÊ Use a heat resistant container or surface for safety.
***Sold as a curio.åÊ Results not guaranteed.***åÊ
---
Share this Product
---