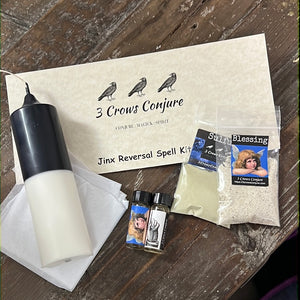 Jinx Reversal Spell Kit
Regular price
$50.00
$0.00
Unit price
per
Jinx Reversal Spell Kit is used if you have been cursed or crossed by someone and it is affecting your life, turn it around and send the curse away from you and back to its source.
The Jinx Reversal Spell Kit includes A two-toned candle spell is essentially two spell candles in one - a black candle to reverse and remove negativity and a white candle to bring in blessings. If you'd like to specifically reverse a money curse or remove a general curse that is affecting all areas of your life, you may want to use the Jinx Reversal Spell Kit (Money) or the Jinx Reversal Spell Kit (Love).
This spell kit comes with everything you need to do a reversing spell - a two-toned 2 x 6.5 candle, Reversing Oil, Blessing oil, Sulphur, Blessing Powder, a mirror, and complete instructions to do your work.
Do not leave candles burning unattended. Use a heat-resistant container or surface for safety.
***Sold as a curio only. Results are not guaranteed.***
---
Share this Product
---