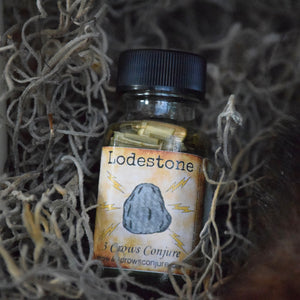 Lodestone Oil
Regular price
$14.95
$0.00
Unit price
per
Lodestone Oil can be used for a wide variety of goals and desires. People often utilize this oil in attracting and money drawing rituals. It is also believed that lodestones have the ability to attract, luck, love, prosperity, abundance, employment, etc. 
Lodestone Oil USES:
Feed Lodestones
Anoint money, job applications or home loan documents
Mix a few drops into your shampoo and body lotion
Lodestone Oil SPELL IDEAS:
Our Lodestone Oil is one of the most versatile conjure oils we carry. It can be mixed with any other type of oil.  We like to use this oil on our chime candles make sure to use the color associated with your intentions.

Green for money.
Red or pink for love.
Gold for prosperity and abundance, etc...
You will also need to get an image that symbolically represents your desire. You may also wish to write your petition (what you want) on either a brown piece of paper bag or parchment paper. Anoint the candle with the Lodestone Oil in the draw to you direction. Place the candle in the appropriate holder on top of the petition. Take a moment to relax center yourself. When you feel ready, light the candle and read Psalm 23. You may also come up with your own prayer as well.

***Sold as a curio only.  Results not guaranteed.***
---
Share this Product
---