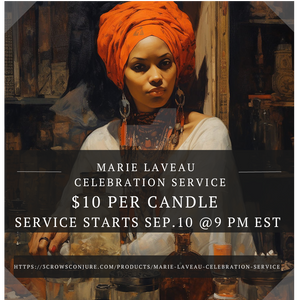 Marie Laveau Celebration Service
Regular price
$10.00
$0.00
Unit price
per
🕯️ **Introducing the 3 Crows Conjure Marie Laveau Celebration Service!** 🕯️

🌟 Join us on the mystical evening of September 10th at 9 PM EST as we pay homage to the legendary Marie Laveau, the Queen of New Orleans Voodoo, in a spellbinding and deeply spiritual experience like no other. 🌟

**Experience the Magic:**
✨ Marie Laveau, a name synonymous with enchantment, power, and mystique, beckons us from the depths of history to connect with the realms beyond. This celebration service is a unique opportunity for you to immerse yourself in the rich tapestry of New Orleans Voodoo and honor the spirit of Marie Laveau.

**The Candle Ritual:**
🕯️ At the heart of our celebration is a mesmerizing candle ritual. For just $10 per candle, you can become a part of this powerful experience. Each candle is meticulously prepared and consecrated, ensuring that its energy is attuned to the ethereal vibrations of Marie Laveau herself.

🌕 As we light your candle, you will be guided through an ancient invocation, allowing you to tap into the potent energies of Marie Laveau. It's a moment of profound connection, where the past and present blend seamlessly. 

**What to Expect:**
🌟 A mystical atmosphere that transports you to the heart of New Orleans' mystical alleys, filled with the essence of Creole culture and the mysteries of the Bayou.

🕯️ Personalized Candle Experience: Your $10 contribution not only grants you a candle but also includes a personalized blessing and intention-setting tailored to your unique desires and needs.
***Please make sure to include your request to Marie in the description box and include only 1 request per candle you order. If you include multiple requests and only order 1 candle we will only use the first prayer.
 
🔮 Guided Meditation: Our experienced practitioners will lead you in a guided meditation, helping you to align your intentions with the ethereal energy of Marie Laveau.

💫 Spiritual Community: Connect with fellow participants who share your passion for spiritual growth and self-discovery. Share stories, experiences, and insights as you embark on this mystical journey together.

🌗 Transformation: Experience the profound transformation that can occur when you connect with the spiritual legacy of Marie Laveau. Whether you seek love, prosperity, protection, or guidance, her influence can be a guiding light in your life.

**Secure Your Candle:**
Don't miss this opportunity to be a part of the 3 Crows Conjure Marie Laveau Celebration Service on September 10th at 9 PM EST. Reserve your candle now for just $10 and open the doors to a world of mysticism, magic, and transformation.

🌠 Embrace the power of Marie Laveau and let her illuminate your path toward a brighter future. Join us on this enchanting journey and experience the enchantment that has captivated souls for generations.

🔮 Unlock the secrets of the Voodoo Queen and let her magic infuse your life with blessings and prosperity. Book your candle today and be part of a celebration like no other! 🔮
---
Share this Product
---