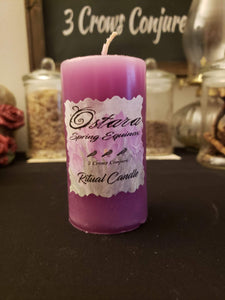 Ostara Spring Equinox Ritual Candle
Regular price
$14.95
$0.00
Unit price
per
Ostara celebrated this 20th March, celebrates the Spring Equinox, new hopes, new beginnings, and new relationships. The festival of Eostre, the lighthearted Anglo-Saxon Goddess, she invokes the balance between light days and dark nights. Associated with the Easter Holiday, Ostara is known as a time of fertility and abundance and the coming of spring flowers.
Ostara Spring Equinox Ritual Candles are perfect for celebrating and for ritual in honor of this sabbat. Beautifully hand-poured, each candle is scented with a beautiful sweet springtime essence in a pretty purple. Burns approx 85 hours. Made from pure essential oils, essence oils, natural botanicals, and a pure cotton wick. I always use a high amount of oil to ensure a high scent throw while lit or not lit placed within your sacred space or in the fairy garden! Perfect for spell casting and ritual use.
Fragrance Description: Fresh Flowers

Ostara Spring Equinox Ritual Candles are currently available in 3x4 size - Limited through spring
Do not leave candles burning unsupervised. Please use a heat resistant container or surface.
***Sold as a curio. Results not guaranteed.***
---
Share this Product
---