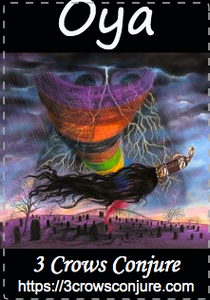 Oya Incense
Regular price
$9.95
$0.00
Unit price
per
Oya Incense is to honor this fierce warrior. When you need help in the marketplace or even to clear the way this incense is for you.
Oya wears a full skirt made up of nine different colored pieces of cloth. Her movements tend to be abrupt and violent, so her skirts fly around her when she moves. Tornadoes are thought to be caused by Oya's skirts that whirl as she dances. Oya can wear any color except black. She lives in a porcelain sopera (soup tureen), which has either nine different colors or a variation of dark burgundy and brown hues. Her number is 9, and her metal is copper, so her initiates often wear 9 copper bracelets in her honor. Her favorite foods are white rice with eggplant, and black-eyed peas cooked and shaped into little balls. She also likes grapes. Because her clothing contains nine colors, some people say that the rainbow, which is also made up of different hues, belongs to Oya. She's the patroness of the marketplace, a symbol for transition and change in the human world. Offerings for Oya are often left in the marketplace. 
Oya Incense is a loose herbal incense made from organic herbs and the highest quality resins designed to be used with a charcoal disk. Use a spoon to add incense to the hot charcoal. Make sure to use a heatproof container.
Do not leave incense burning unattended. Use a heat-resistant container or surface for safety.
***Sold as a curio. Results not guaranteed.***
---
Share this Product
---