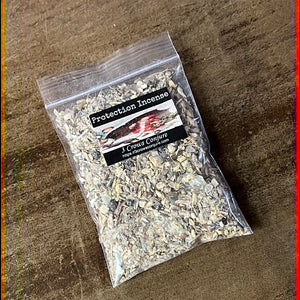 Protection Incense
Regular price
$9.95
$0.00
Unit price
per
Protection Incense is a loose herbal incense made of organic herbs and high quality resins designed to provide overall protection. Protection work is often what we overlook the most, yet it is what we need most. After doing any clearing, cleansing, uncrossing, unblocking work we must follow it with protection work to ensure that what we got rid of doesn't attach itself to us again. This Protection Incense can assist you in protecting yourself, your loved ones, your home, business, property, and finances.
Protection Incense is designed to be used with a charcoal disc. Use a spoon to add the incense to the hot charcoal. Make sure you use a heat proof container for safety.
Do not leave things burning unsupervised. Make sure to use a heat resistant container or surface for safety.
***Sold as a curio only. Results not guaranteed.***
---
Share this Product
---