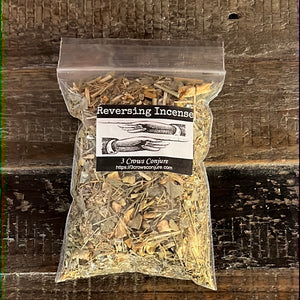 Reversing Incense
Regular price
$9.95
$0.00
Unit price
per
Reversing Incense is to send the nasty tricks and hexes your enemy has thrown at you BACK AT HIM. Reversing Incense turns their hateful magic right back to the sender, giving them a taste of their own medicine.It isn't  about attacking the other person, but if a person is sending negativity your way, laying tricks and throwing hexes at you, this incense will send it right back to them without it affecting you. If you know a particular person who's  sending you negativity, you may print a picture of the person with name and birthday (if you know it) written on the back of the picture and burn the incense on top of the persons picture.
Reversing Incense is a loose herbal incense created to be used with a charcoal disk. Use a spoon to add incense to the hot charcoal. Make sure to use a heat proof container.
Do not leave things burning unsupervised. Make sure to use a heat resistant container or surface for safety.
***Sold as a curio. Results not guaranteed.***
---
Share this Product
---