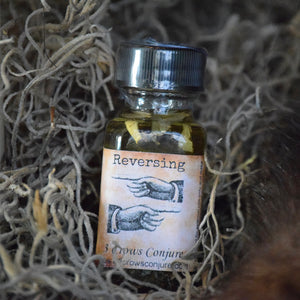 Reversing Oil
Regular price
$14.95
$0.00
Unit price
per
Reversing Oil is to send the nasty tricks and hexes your enemy has thrown at you BACK AT HIM. Reversing Oil turns their hateful magic right back to the sender, giving them a taste of their own medicine. This isn't a revenge oil, but rather a "return to sender."
Reversing Oil Uses:
Reverse a curse back to your enemy
Return slander to its source
Return evil to its source
Reversing Spell Ideas:
Reversals are an effective way of dealing with enemies throwing magic at you, without giving away any of your own power over to them. Dress black/red reversing candles with Reversing Oil and burn them down over your enemy's photo. Anoint evil eye amulets with this oil and wear them as a mighty protection that reflects any malicious magic back to its source.
***Sold as a curio. Results not guaranteed.***
---
Share this Product
---