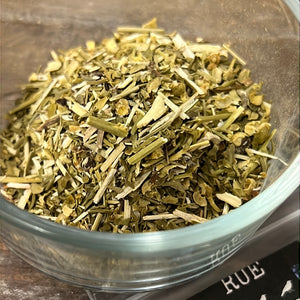 Rue Herb
Regular price
$4.00
$0.00
Unit price
per
Rue Magical Uses: Rue, also known as Ruda, is used against the evil eye, to break jinxes, cleanse, remove spiritual blocks and relieve crossed love situations as well as give you insight and wisdom on love. Rue is also used to promote health and to heal the aura. In Santeria, Rue is used for purification and cleansing. It is a major ingredient in Four Thieves Vinegar, which was used during the black plague to keep wearings from contracting the disease.
gender: Masculine
element: Fire
planet: Mars & Saturn
deities: Hecate, Diana, Mars, Aradia
You will receive 1 ounce in a clear sealed bag.
***Sold as a curio only. Results are not guaranteed.***
---
Share this Product
---