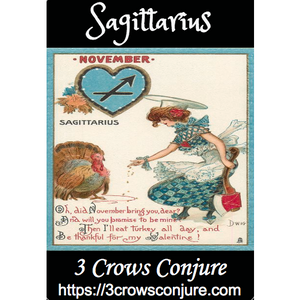 Sagittarius Powder
Regular price
$9.95
$0.00
Unit price
per
Sagittarius Powder is used to represent people born in this sign, to use for whose petitions are appropriate to the astrological sign thus named, or to be worn, worked with, or placed as personal scents during the months associated with those signs in order to strengthen connections to the energies represented by the signs of the zodiac. Some workers keep a "Master Candle" on their altar at all times and each month with that month's appropriate zodiacal candle.
Birthday: November 22 - December 21
Symbol: The Centaur Archer
Keywords: Philosophical, adventurous, athletic, and uncommitted
Anatomy: The hips, thighs, liver, and sciatic nerve
Gems: Topaz, Turquoise
Flowers: Century Plant, Yucca
Planet: Jupiter
Color: Blue
Sagittarius Powder is made with organic herbs, high quality resins, and therapeutic grade essential oils. It is safe to wear on your body.
***Sold as a curio only. Results not guaranteed.***
---
Share this Product
---