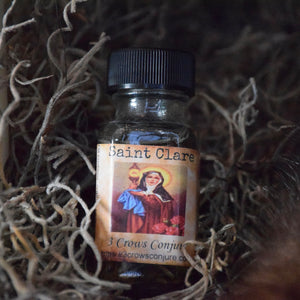 Saint Clare Oil
Regular price
$14.95
$0.00
Unit price
per
Saint Clare Oil is a powerful oil for helping to petition her for help looking into situations that you want to find out what's really going on! We use organic herbs, therapeutic grade essential oils, and high quality resins associated with Saint Clare.
Saint Clare is the patron saint of eye disease, goldsmiths, laundry, and television. Saint Clare is petitioned for aid when working for purification or to remove blockages. Petition Saint Clare to allow her peaceful faith and humility work for you.
Saint Clare is one of the most common saints called upon by rootworkers, lightworkers, and other practitioners. Her influence is subtle, but powerful. To all those who ask her for help, she offers relief from anxiety, addiction, fear, and blockages of all kinds. Offer her a prayer when you are experiencing doubt or worry, and let her help you.
Saint Clare's Feast Day is August 11th and her day is Monday. Give her fresh flowers and a public thank you after she comes through for you.
You will receive .5 ounce in a glass bottle.
***Sold as a curio only. Results not guaranteed.***
---
Share this Product
---