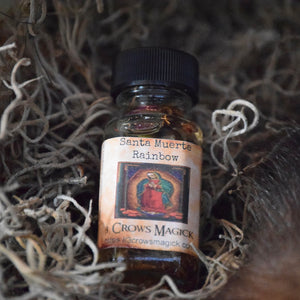 Santa Muerte Oil (Rainbow)
Regular price
$14.95
$0.00
Unit price
per
Santa Muerte Oil (Rainbow) was created to honor and pray to the Beloved Santa Muerte in her 7 color Rainbow Robe. She is the sacred figure of "Holy Death." Don't underestimate the power of Santa Muerte. She is a powerful spirit that can bring fast relief and help to those who venerate her. She is also known for her ability to bring justice to those that have done harm.
Santa Muerte is traditionally prayed to over a period of nine days. She is represented by many different colored robes. Each color has its own magical intention, please see below.
Santa Muerte Oil Uses:
Gold: money, business success, abundance
Yellow: fast help or to solve problems quickly
Blue: career, employment, wisdom
Amber: addictions
Green: legal problems and justice
Black: strength, power, justice
Brown: difficult problems, purification
Red: love, passion, control
Purple: spirituality, personal growth, open doors
White: protection, blessings
Bone: healing, harmony, peace
Santa Muerte Offering Ideas:
Santa Muerte's favorite offerings are cigarettes, rum, baked goods, such as cakes, cookies or sweetened bread. She is also fond of candy, fresh flowers. Always leave out a fresh bowl of water for her. You may either choose to work with a small statue of Santa Muerte or you may simply print out an image of her and place it on your altar.
***Product sold as a curio. Results not guaranteed.***
---
Share this Product
---