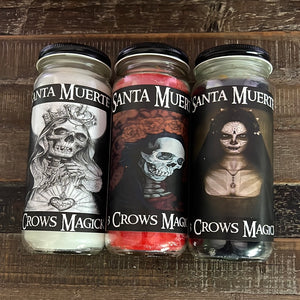 Set of Santa Muerte 7 Day Fixed Candles (Black, Red and White Robes)
Regular price
$69.95
Sale price
$80.85
Unit price
per
Santa Muerte (White Robe) 7 Day Fixed Candle: Santa Muerte (White Robe) is for cleansing and purification on every level. This is the spiritual aspect of Santisma Muerte. You cannot embark on major projects while in a state of turmoil. Santa Muerte (White Robe) is like hitting the magic reset button so you can go forward. She is great for the first level of protection and shielding. She should always be the first robe you choose to work with when working with Santisima's different aspects.
La Nina Roja 7 Day Fixed Candle: La Nina Roja is for areas of the heart and materialism. La Nina Roja is famous for her ability to quicken hearts, inspire love, and inflame lust. She is known to help bring you materialistic desires. If you need help with gaining those items, she can help.
La Nina Negra 7 Day Fixed Candle: La Nina Negra is one of the most feared and most sensationalized aspects of Santa Muerte. Her reputation as the bringer of death is definitely in her scope, but she is so much more. La Nina Negra is very protective by her nature. Because she is the bringer of death, she is great for bringing death to curses, spells, banishing unwanted people, or even spirits.
We will dress and bless your three 7 Day Fixed Candles with therapeutic grade essential and condition oils, organic herbs, high quality minerals, and powerful intention prayers.
Each Candle is custom made and takes time to prepare. We do not mass produce so by nature it may take a few extra days to prepare. Variations may occur from candle to candle.
Do not leave candles burning unsupervised. Make sure to use a heat proof container or surface.
***Sold as a curio. Results not guaranteed.***
---
Share this Product
---