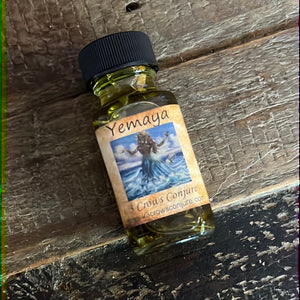 Yemaya Oil
Regular price
$14.95
$0.00
Unit price
per
Introducing Yemaya Oil: Unlock the Serene Power of the Ocean Goddess

Discover the captivating essence of Yemaya Oil, an extraordinary creation that encapsulates the beauty, serenity, and mystical allure of the ocean goddess herself. Immerse yourself in the transformative energy of Yemaya, the revered deity known as the mother of all waters, and allow her divine presence to guide you on a journey of healing, abundance, and profound spiritual connection.

Yemaya Oil is meticulously crafted using an exquisite blend of natural botanical ingredients that pay homage to the essence of the sea. Every drop of this enchanting oil is a fusion of carefully selected plants, herbs, and essences, meticulously curated to resonate with the powerful vibrations of Yemaya. This exquisite composition mirrors the rhythm of the tides, embodying the ever-flowing energy and profound wisdom of the ocean.

As you apply Yemaya Oil to your skin, you will feel a gentle and comforting sensation, reminiscent of the caress of ocean waves against your body. Its velvety texture glides effortlessly, leaving your skin feeling nourished, hydrated, and imbued with a sense of tranquility. The invigorating aroma of the oil will transport you to the heart of a secluded beach, where the salty breeze meets the soothing embrace of Yemaya's presence.

Yemaya Oil is a powerful tool for transformation, providing a gateway to connect with your inner self and tap into the abundance of the universe. It serves as a potent catalyst for attracting prosperity, love, and harmony into your life. By anointing yourself with this sacred oil, you align your intentions with the divine feminine energy of Yemaya, inviting her blessings and protection into every aspect of your existence.

This mystical elixir offers a multitude of applications. Use it during meditation or ritual practices to enhance your spiritual connection and heighten your intuition. Incorporate it into your self-care routine to cultivate a deep sense of self-love and nourishment. Apply it before embarking on important endeavors to invoke Yemaya's wisdom and guidance, empowering you with the clarity and courage needed to pursue your goals fearlessly.

Yemaya Oil is more than just a fragrant oil—it is a vessel for invoking the goddess's gentle yet mighty power. Each bottle is carefully infused with love, reverence, and sacred intentions to ensure that every user experiences the transformative qualities of this divine energy. Its presence will create a sacred space around you, infusing your surroundings with an aura of tranquility and protection.

Indulge in the opulent experience of Yemaya Oil and embark on a journey of spiritual awakening and self-discovery. Allow the ocean goddess to wrap you in her nurturing embrace, inspiring you to embrace your true essence and manifest your desires. Unlock the serene power of Yemaya and witness the profound transformation that unfolds as you align yourself with the rhythmic ebb and flow of life's abundant blessings.

Note: Yemaya Oil is for external use only and should be kept out of reach of children. As with any cosmetic product, a patch test is recommended before full application to ensure compatibility with your skin.
***Sold as a curio. Results are not guaranteed.***
---
Share this Product
---